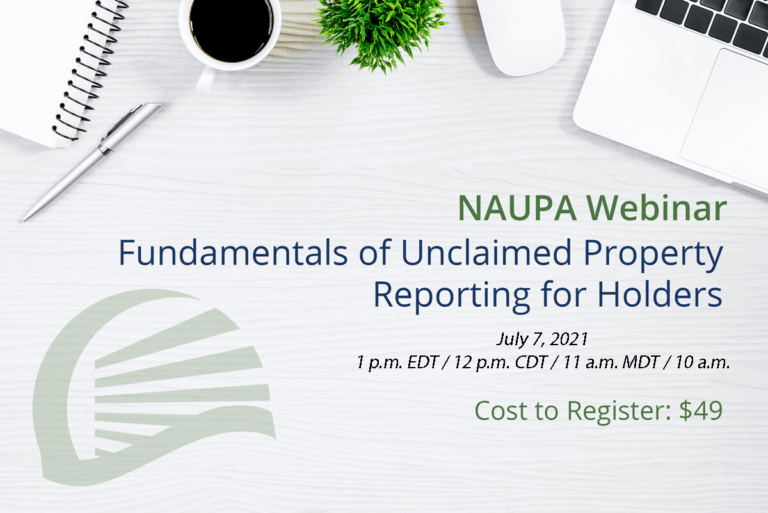 Fundamentals of Unclaimed Property Reporting for Holders Webinar
1:00 – 2:30 pm ET/ 12:00-1:30 pm CT/ 11:00 am-12:30 pm MT/ 10:00-11:30 am PT
In this 90-minute webinar presented by the National Association of Unclaimed Property Administrators, participants will learn the essential unclaimed property fundamentals and skills needed to file accurate reports. Key terms will be defined and core concepts such as dormancy periods, due diligence, and reporting requirements will be provided by a panel of experienced state administrators. Following the formal presentation, engage with state administrators in an exclusive Question & Answer session.
You will leave this session with important knowledge and resources to ensure that your company complies with state unclaimed property laws. Any business entity in possession of property is a potential holder. NAUPA understands that holders are the first and vitally important link in returning unclaimed property to the rightful owner.
Who Should Watch Fundamentals of Unclaimed Property Reporting for Holders Webinar?
NAUPA understands how much turnover there is in the unclaimed property reporting position in companies. This Webinar is an excellent crash course to bring new staff with unclaimed property reporting responsibilities up to speed quickly, a great refresher for veteran employees, and the exclusive Q&A will benefit anyone with questions about reporting procedures.
You will benefit from watching the webinar if you:
What you will learn from the webinar: