National Awareness Campaign Encourages Americans to Search for Unclaimed Property
(WASHINGTON, DC) – The National Association of Unclaimed Property Administrators is celebrating the first annual National Unclaimed Property Day today, February 1, 2021. Nearly 33 million people in the United States – roughly 1 in 10 Americans – have unclaimed property. Unclaimed Property Day will serve as a national initiative to help raise awareness for and reunite Americans with their unclaimed property.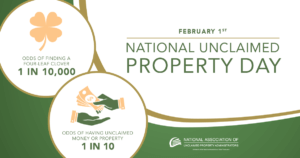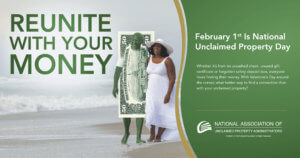 This year's campaign includes two themes – "The Odds are Greater with Unclaimed Property" and "Reunite with Your Money." "The Odds are Greater with Unclaimed Property" theme highlights the high likelihood that an individual has unclaimed property waiting for them. The "Reunite with Your Money" theme is a play on the idea that, ahead of Valentine's Day, Americans' unclaimed money and property is lonely without them, and by reconnecting they can begin to do the things you love together.
All 50 states and the District of Columbia have unclaimed property programs that actively and continuously work to find the owners of these lost and forgotten assets. When the holder of unclaimed property – which is often in the form of uncashed paychecks, stock and bonds, safe deposit box contents and family heirlooms ­ – cannot locate the rightful owner after an extended period of time, the property is passed to the state and designated as unclaimed property.
According to NAUPA's recently released inaugural report, unclaimed property programs returned a total of $3.14B to rightful property owners during the 2019 fiscal year. The average claim amount paid was $1,780 and the median claim paid was $144.30. Additionally, the data shows that states return roughly 50% as much as they take in, and the percentage return increases as states receive more information on the property, highlighting the need for holder record maintenance.
There is never a cost associated with retrieving your unclaimed property, and State Treasurers and unclaimed property administrators continue to work hard to return unclaimed property during this financially challenging time.
Learn more about National Unclaimed Property Day here and conduct a simple search for your unclaimed property here.